Try Dives are an excellent way of finding out how much fun scuba-diving can be. You get to meet other divers, try on the equipment and spend some time with an experienced diver/instructor in a heated swimming pool discovering the pleasures of breathing underwater. No dangers from shipping… no sharks… why wait until you are on holiday when you can experience scuba diving now. We run try dives most weeks on a Thursday night between 8:30-9:30pm at the local heated swimming pool.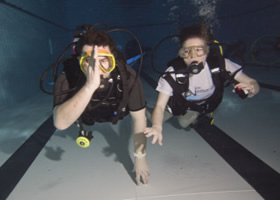 What happens on a Try Dive?
We run Try Dives at any of our Thursday evening training sessions, but because of the availability of experienced divers and instructors you do need to book in advance.
You will meet your instructor at our clubhouse where you will be fitted out with all the scuba equipment you will need. You then visit the local pool where you will be given a pool side briefing before enjoying a 30-60 min one-to-one session with your instructor in the pool.
Afterwards you will return to the clubhouse where you are able to chat about your experiences and meet other members of our club. You will receive a certificate to complement your underwater experience.
Once you have you completed your try dive you will probably want to learn to SCUBA dive! We'd be very happy to talk about the training we offer and the costs associated with membership of the club.
But am I too old or just unfit?
Do you have reasonable health and enjoy being underwater? Then you can join us on a try dive. You do not have to be super fit, and we have divers within the club who are still actively diving in their 60s and 70s.
Is it expensive to do a Try Dive?
A Try Dive costs only £20 (if you then choose to join the club we will deduct this from your first year's memebership). Dive training itself costs a little more, but is probably not as expensive as you think – during training you are able to hire most of the equipment you need from us and as we have our own dive boats and nationally-qualified instructors you will not be paying commercial rates. UK BSAC membership offers insurance and a monthly dive magazine.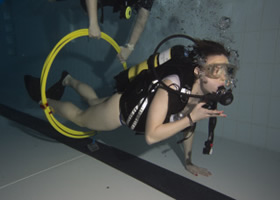 What do I need to bring with me?
A swimming costume and a towel. All of the rest of the equipment you will need we will supply as part of your Try Dive experience.
How do I book?
Simply e-mail us or call 07413 224234 to arrange your Try dive. We will then contact you, and arrange your introduction to the underwater world.
On the day, you will also need to bring your payment (£20), a medical self declaration form, and if you're under the age of 18 you need to get your parent or guardian to sign the form.
We can normally accommodate up to 4 divers on a Try dive at the same time, subject to dive guides being available.
Not interested in diving yourself but you have a partner who is? Why not book them on a Try Dive?
---
Videos & Photographs
If you want us to we can even video underwater part of your try-dive as a memento. Talk to us for more details.